The snow-clad mountains, the lush green valleys, the freshness in the air, tranquillity in the environment, these are few things that describe Himachal Pradesh at its best. And, there you go missing a big surprise that Himachal has got for its loyal travellers. The scrumptious food. Himachali cuisine gives you more than one reason to fall in love with it.  The surrounding states of Punjab and Tibet have a deep influence. Most of their dishes are slow-cooked imparting a unique flavour and aroma and a lot of their preparations are also fermented. The cuisine is predominantly homely yet rich and intense. From the road vendors to the authentic cafes and restaurant, the Himachali people will pour their heart out in their dishes. So, on your next trip to this beautiful state do not miss out on some of the mouth-water dishes that they have to offer you.
Since it is hard to find a variety of fresh vegetables on the hilly terrain of Himachal Pradesh, there are a lot of non-vegetarian dishes and the use of lentils, rice and pulses is common. Interestingly, the best quality of Basmati rice comes from this region – the foot of the Himalayas. The daily menu in every household is a simple fare of dishes made with fresh seasonal produce. In the lower area of Himachal, you will find more vegetables, fruits and local leafy greens and as you move higher, meats and grains take over.
 Regions in the north of Himachal Pradesh like Spiti and Lahaul are comparatively dry and therefore they use hardier local grains like buckwheat, barley and millets. A lot of their traditional dishes like Siddu, Aktori or Gulgule are cereal-based. Towards the Southern parts, you will find more of milk and milk products considering their rural culture.
They also use a lot of yogurt as a base to most curries which adds a comforting depth along with buttermilk and desi ghee. The food is rich and spicy with a generous sprinkle of spices like cardamom, cinnamon, turmeric and coriander powder. Dham is a traditional festive meal that is prepared by Brahmin chefs. It is only cooked by Botis, a particular caste of Brahmins who are hereditary chefs. These Brahmin cooks originally belonged to the Kangra Valley and prepared meals for weddings, festivals and special occasions. It is believed that they were rewarded with a bag of wheat at the end of the year.
Dham includes aromatic rice, moong dal, madra of kidney beans or chickpeas cooked in yoghurt and a sweet dish made with lentils and rice called Mitha Bhatt or Mithdee which is made with boondis and breadcrumbs. The dishes of the meal may differ in various regions of the state. Pahadi folks are also devoted to their cups of tea and given the chilly weather it's justified. Tchaku Cha is a kind of salty butter tea that is very popular. A special kind of black tea is used to make it, along with milk, salt and butter. It is blended in a traditional vessel called dongmo.
From the serene valley and beautiful hilltops, we've got you some amazing recipes to recreate the authentic flavours in your very own kitchen.
1. Madra
Where to find? Chamba and Kangra
Details : Madra is originally a delicacy that belongs to the Chamba district of Himachal Pradesh. The dish mainly consists of the soaked chickpeas (chana) or vegetables. Cooked well in the oil and various spices such as cloves, cinnamon, cardamoms, cumin, coriander powder and turmeric powder enhance the taste of this dish. Madra is one of the dishes that represents the food culture of Himachal Pradesh. Every restaurant, every occasion, and the festival will have Madra offered to you with utmost love.
2. Dhaam
Where to find? Manali, Kangra, Mandi, Hamirpur Chamba
Details : Dhaam is a complete food that along with a great taste promises a healthy dose of nutrients. The dish includes dal, rajma, rice, curd, boor ki Kadi and is very well complemented with gur (jaggery). Dhaam is a plate full of delicious delicacies that are a must-serve on the occasions and festivals. The distinctive feature about this dish is that it is prepared by special chefs known as 'botis'. To grab the best taste of Dhaam you must visit Himachal during festivals.
3. Tudkiya Bhath

Where to find? Chamba
Details : Tudkiya Bhath is the authentic pulao of Himachal Pradesh that pahadi people cook in their own very style. What's unique? The dish is not only cooked with Indian spices but an extra add up to the lentils, potatoes and yoghurt along with onion, tomatoes, garlic, cinnamon, cardamom provides this dish such a great taste that will make you want it again and again. For the best taste, Tudkiya Bath is complemented with mash dal and few drops of lime juice.
4. Bhey or Spicy Lotus stems
Where to find? All over Himachal
Details : A famous dish of Himachal Pradesh that is fondly eaten in the households of the Himachali people. Bhey is a delicious dish which is prepared with the lotus stems. Thinly sliced lotus stems are then cooked in the ginger-garlic, onions and gram flour which adds the unique and great taste to the dish.
5. Chha Gosht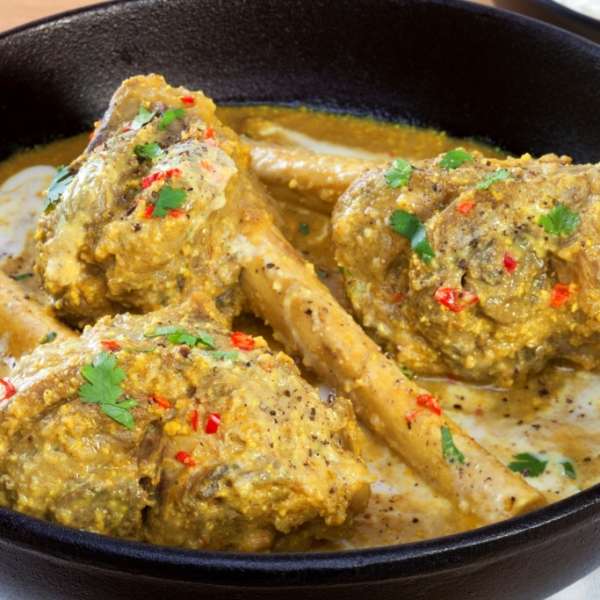 Where to find? Chamba
Details : If you are a hard-core vegetarian then nothing can serve you better than Chha Gosht. A typical Himachal delicacy, Chha Gosht is a scrumptious dish prepared with the marinated lamb which is further cooked in the gravy of gram flour and yogurt.The taste of this dish is highly enhanced when it is well cooked in the Indian spices such as cardamom, red chili powder, coriander powder, bay leaf, asafoetida and ginger-garlic paste.
6. Siddu
Where to get? Kullu
Details : Made from wheat flour, Sidu is a local side- dish of Himachal Pradesh which greatly complements the main course of mutton or some vegetables. The preparation of Sidu is difficult and time-consuming, but for the taste that it renders, every minute of preparation is worth it. The wheat flour is kept for 4-5 hours for the yeast to settle down. Later, the dough is filled with fat and put on the direct flame to get the half-cooked dough. This partly cooked dough is then steamed to keep the taste and nutrients of the ingredients intact. Sidu can easily be found in the local restaurants of Himachal Pradesh to give tourists a flavor of Himachali cuisine.
7. Babru
Where to find? Shimla, Mandi, Hamirpur, Bilaspur
Details : Babru is a Himachali version of the famous North Indian kachoris stuffed with black gram and deep fried. Babru is a flat bread which is prepared with the stuffing of black gram paste which is added to the kneaded dough. The crisp and the scrumptious taste that this dish has to offer will make you forget the conventional Kachoris of North India. Babru is best enjoyed with Tamarind chutney and it also complements the famous Chana Madra of Himachal cuisine.
8. Aktori
Where to find? Lahaul- Spiti
Details : Aktori is a festive dish which is very much enjoyed by the people of Himachal Pradesh during their festive time. Aktori is prepared in the form of a cake or pancake made with the buckwheat leaves which is further cooked in the wheat flour. Although, the dish originates in Spiti Valley but it is frequently prepared and fondly eaten all over Himachal Pradesh.
9. Kullu Trout fish
Where to Find? Kullu
Details :  Himachal Pradesh promises a great number of non-vegetarian delicacies. Kullu trout is a famous dish of Kullu region which is prepared with trout fish. The marinated fish is cooked in the minimal spices to keep the nutrients and the original taste of Trout intact. The dish is best coupled with the number of boiled vegetables, and hence it remains one of the healthiest delicacies of Himachal Pradesh.
10. The Tibetan dishes
Details : The food talk of Himachal Pradesh cannot be completed without including the Tibetan cuisines. Being an important Tibetan colony, the regional food of Himachal Pradesh is highly inspired by the Tibetan culture. The best of which can be found in Mcleodganj and Dharamshala. Momos remains the all the time favorites of Himachali people that. Apart from that, Thukpa, Tingmo , LuchiPoti, Thentuk, Naizha Cake are some of the dishes that can be enjoyed in the kiosks of Himachal Pradesh.
11. Mittha
Details : Mittha is the sweet dish of Himachal Pradesh prepared on special occasions. It has sweetened rice mixed with dry fruits and raisins.
12. Kaale Channe ka Khatta
Where to find? Kangra
Details : It is a traditional Pahari Dish which is sour in taste and is usually served with rice. This dish is usually served with Madra.
Now, you know what not to miss when in the region of Himachal Pradesh. These delicious delicacies just add an extra perk to your travelling experience. And isn't traveling about experiencing the culture?
13. Pahadi Chicken Curry
Where to Find? All over Himachal
Details : Pahari Chicken Curry Recipe is a recipe that has been taken from Pahari Cuisine which is famous in the North eastern part of India. "Pahadi" refers to the mountains so the cuisine is influenced by the ingredients that are majorly grown in the mountain region. The chicken is cooked tender in a thick yogurt gravy, the masala is made by roasting coriander seeds, cinnamon stick, cloves, fennel seeds and onions and then ground to form paste which is then cooked with chicken.
14. Auriya Kaddoo or Kadoo Ka Khatta
Where to Find? Kangra, Mandi, Hamirpur
Details :  The name itself brings a tangy taste in our mouths. Khatta is indeed a very sumptuous dish made with pumpkin cooked in a spicy and tangy madra gravy and dried raw mango powder or amchoor along with other spices. Other popular vegetable preparations of the region are Sepu Vadi and Gucchi Mattar.
15. Patande
Where to Find? Sirmour, Kangra
Details : A popular breakfast dish of Sirmour district, Patande can rightly be called as Indian pancakes. Ladle full of smooth batter made from wheat flour, milk and sugar are poured on a ghee laden hot griddle and a thin pancakes like those resembling dosa(s) are cooked to make sweet and yummy Patande.